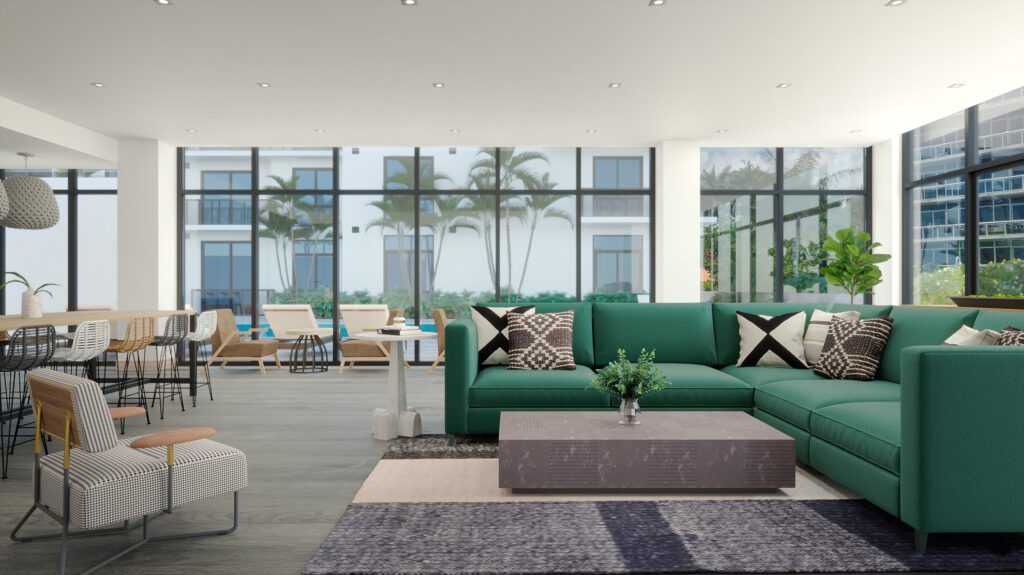 Condo lobby makeovers are likely to cause some ripples, if not out and out tidal waves when not managed wisely. If your condo board gets the majority of owners on board with your plans, your job becomes much easier. As a result, your first order of business is to work as collaboratively as possible. This will create a lobby redesign everyone, or at least almost everyone, will love. Here's tips to create a comfortable lobby that ups first impressions, while making people feel at home.
Enlist Resident Help
Encouraging residents to participate in the project is always the best place to start. If your board takes it upon themselves to handle everything without input, it's likely to generate complaints. A cooperative approach lets people feel involved in major decisions that affect the value of their homes. However, it also provides a team to manage the big job ahead. Setting up a design committee allows you to recruit people with a true interest in the project. Often this provides an interesting cross section of people offering valuable skills and input.
Send Out a Survey
Once you have a committee in place, send out a survey to residents to get a feel for what people expect. Some questions to ask:
What areas of the lobby do you use most often?
Are there aspects of the lobby you feel present safety issues?
Would you like to see a major feature added to the lobby such as a water feature, special lighting, mural, etc.?
Check the elements of the lobby you feel need replacement:

Floors
Paint
Furniture
Front desk, etc.

Is there anything else you would like to add about the lobby redesign?
Resident input provides valuable insight that helps your board meet expectations.
Tender Out Designers
To remain completely objective, avoid hiring residents or board members who might want to bid on the job. Instead, look for an outsider who specializes in residential or hotel lobby renovations. They will bring the latest trends to the project, not to mention cost savings through their connections. By tendering the job out you avoid accusations of favouritsm and help keep the peace. Have at least three designers bid on the job, with mockups of their vision.
Post Design Plans
To keep people involved, consider posting the design plans to social media, or in the lobby. People can vote on the design they find most appealing. This will help ensure more people are onboard with the project to avoid complaints once the project is complete. If time allows, you can even hold a resident meeting and invite the designers to present their ideas.
Don't Overlook Function
It's easy to get carried away with the aesthetics and forget about function. Residents won't be happy if you give up their spot to wait for an Uber so you could add a massive, expensive fountain for example. Therefore consider all lobby functions including:
Safety
Security
Mailroom
Waiting area
This way you will avoid interfering with resident enjoyment.
Reduce Inconveniences
Your goal is to get the job done as quickly as possible. Therefore, scheduling must be top of mind. For example, if elevator refurbishment is part of the makeover, be certain work is only done at low traffic times. Provide residents a schedule with estimated start and finish dates for the overall project, in hand with timing for major work to take place. If accessibility is difficult, be sure you offer an easy path for residents of all abilities. And you must absolutely stick to noise restriction laws!
Get the Most Bang for Your Buck
Because budget is always an issue, focus on key areas that make the most impact including:
Flooring upgrades
Ambient LED, built-in lighting
Comfortable, commercial furnishings
Fresh paint or wall treatments such as stone, marble, wood, etc.
At least one distinct design feature such as a chandelier, feature wall, or new front desk
Just remember, the lobby contributes to condo values. Therefore your updates should include designs that will maintain their appeal for many years to come.
While it's unrealistic to try to please everyone, the more you communicate, and the more you involve residents, the more likely you are to keep the majority happy.
The team at CPO Management Inc, is a seasoned property management company serving Toronto and the GTA condominium corporations. We can assist with major renovation projects to ensure you complete your project on time and on budget. We can also improve communications to keep residents informed of progress. Reach out to our team today.