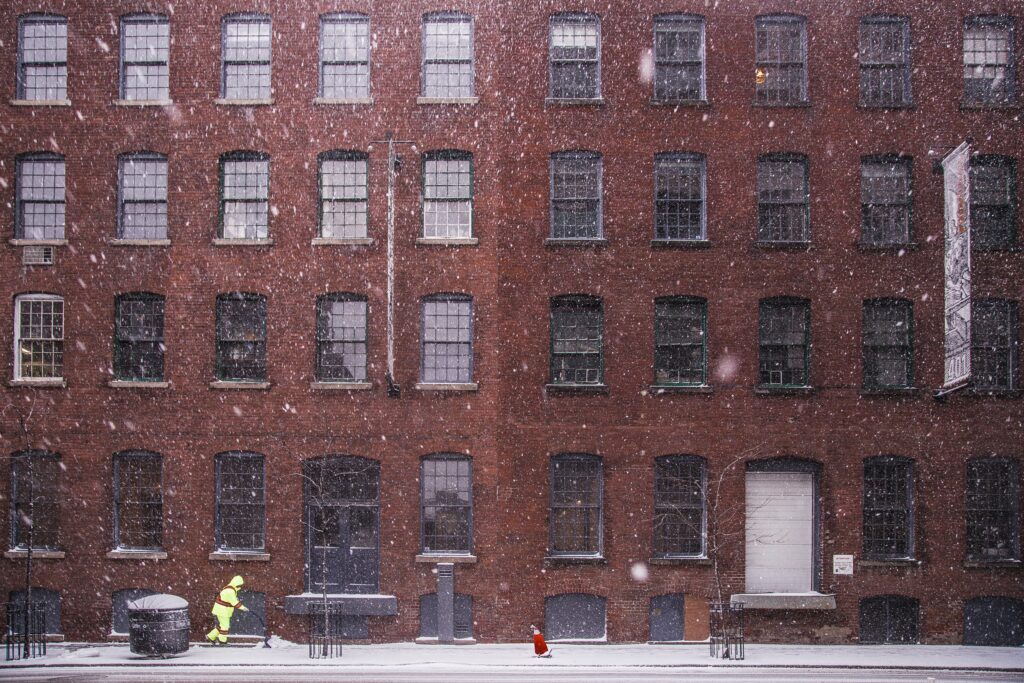 Nothing makes condo owners happier than seeing their hard-earned dollars at work. When you ensure your condo winter maintenance is well-managed, residents feel their property is being cared for and their common element fees are being used wisely.
Here's how to keep residents smiling even when the bitter cold of winter is upon us.
Secure Trusted Snow-Clearing Contractors
According to the City of Toronto, "The owner is responsible to clear steps, landings, walks, driveways (including mutual driveways), parking spaces, ramps and similar areas of a yard of snow and ice within 24 hours of a snowfall to provide safe access and egress for persons and vehicles."
To ensure timely snow removal, secure a trusted snow removal contract well in advance of winter's arrival. Some important questions to ask contractors include:
How many hours it takes to remove the snow after a snowfall?
Will they return more than once a day during major snowfalls, or multiple snowfalls that require ongoing clearing?
How many other properties do they service?
How many trucks do they have available each day?
What other services can they offer such as distributing anti-ice products, shoveling walkways, removing snow from flat roofs, etc.
Make sure the contractor meets your requirements and follow up on referrals. Choose wisely to avoid being left holding the shovel after the next snowfall. Keep in mind maintenance staff should still shovel sidewalks and sprinkle anti-slip products for safety.
Perform Exterior Inspections
Pre-winter inspections provide time to attend to areas in need of repair. What might seem like harmless wear and tear in the summer months can lead to serious issues in harsh winter weather. Exterior inspections should include:
Trees on the property that are dying or with loose branches that could cause damage in high winds, snowfalls, or ice storms
Roof issues, especially flat roofs that are more vulnerable to leaks due to snow and ice accumulation
Damaged siding and windows
Poorly sealed doors and windows
Garage door function
Outdoor pipes that can freeze and burst
These are the areas most effected by cold weather and also that put resident comfort and safety at risk.
Regular Roof Checks
Many condos have roofed areas that can leak due to snow pooling and build-up. As mentioned, flat roofs are the most vulnerable so don't forget exterior common areas like patios and decks. Areas that require the most attention as part of your condo winter maintenance include:
Rooftop AC units and vents
Gutter systems
Rooftop pools and decks
Exposed garage roofs
Low slope roofs
Signs of ice buildup and ice dams, such as icicles
Having these areas checked throughout the winter especially following storms and thaws, can help avoid leaks and costly property damage to not only common areas, but also units.
Winter Maintenance of the Heating System
It is important to perform a routine maintenance check on your HVAC system no later than November. This will address potential issues that can arise as resident demand for heat increases. You have a responsibility to ensure units can maintain temperatures of a minimum 21 degrees Celsius between September 15 and June 1. Proper condo winter maintenance helps avoid scenarios where the heat fails.
A property management company can help provide the most up to date condo winter maintanance services you need to ensure everyone enjoys a safe and comfortable winter.
CPO Management Inc. is a property management company in Toronto and the GTA specializing in providing superior property maintenance services for condos across the city. Reach out to us today to learn more about our condo management services.