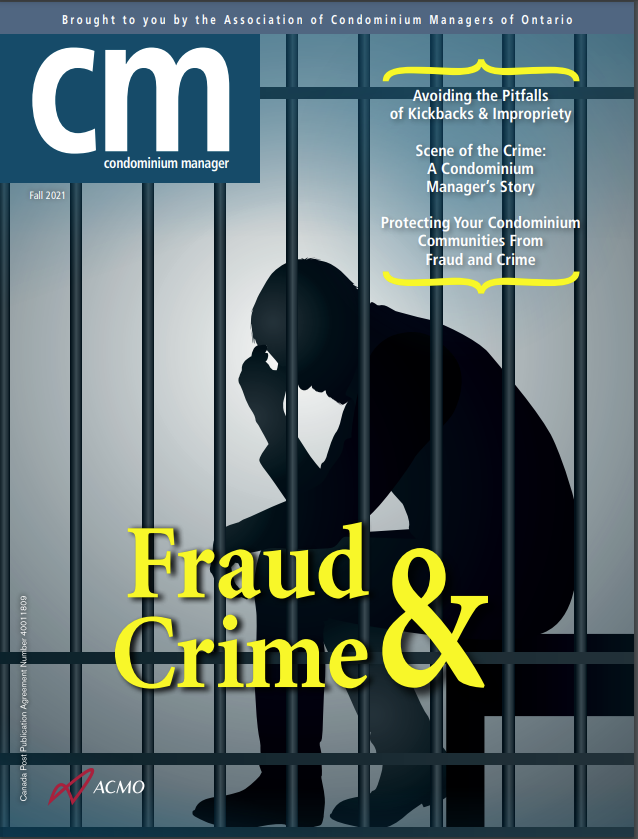 Check out our latest feature in the Association of Condominium Managers of Ontario (ACMO) Condominium Manager magazine – Fraud & Crime issue. We discuss the importance of tendering and technical assessments for ethical capital improvements.
Property managers play a key role in not just assisting, but also educating board members on capital improvement best practices.
Unfortunately, the learning curve is high, becoming even steeper when faced with board members who are either
a) Too focused on budget, opting for underqualified vendors that cost more money in the long run or
b) Intent on personal gain insisting on overfunding capital improvement projects using preferred vendors.
However, when a property management company is willing to take on accountability, they can successfully steer boards away from unethical conduct they may either knowingly or unknowingly commit.
In this latest ACMO issue, we explore the dangers of unethical behaviour and how the misuse of funds can ruin a condo corporation's reserve fund health.
Download your Fall 2021 ACMO CM issue here.